Viberg Service Boot 9.5.
This kills me, but after a few wears of this boot over the past week, it's clear that I need half a size bigger.
I will take $550 for these, which is a big hit on what I paid (follow the link below to check).
Shipping will be low within Australia. I'm willing to ship international but to figure out cost PM me.
For reference, I think the 2030 last fits pretty similar to the Alden Trubalance (most Indy boots) last, so I would go for the same size.
I.e., if you wear a 9.5 in Alden Trubalance, a 9.5 in Viberg's 2030 should fit.
I have weird slim but long feet: the right boot is a great fit but the left boot is just not long enough for my freakish left foot, which is 1.5CM longer than the right.
Icy Mocha Chromexcel leather, brass eyelets, 2030 last, vibram sole, brogue toecap.
Comes with leather and waxed laces, which I will of course include.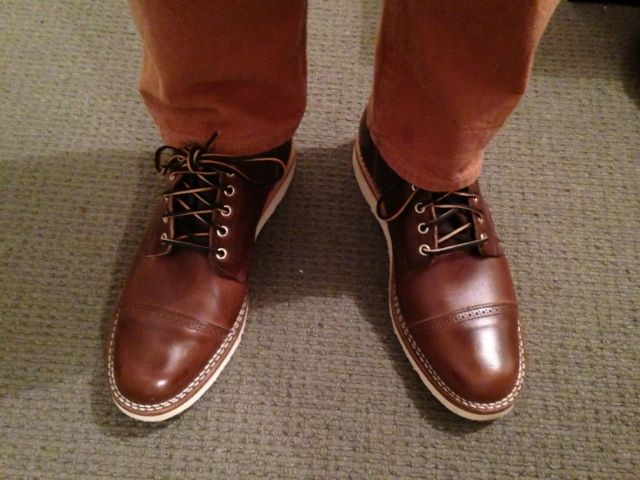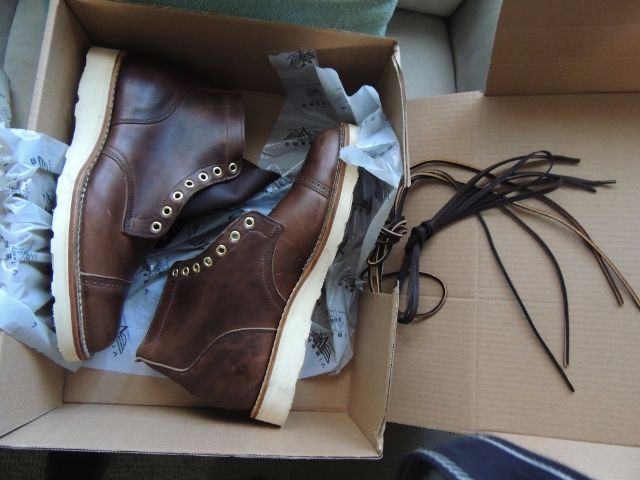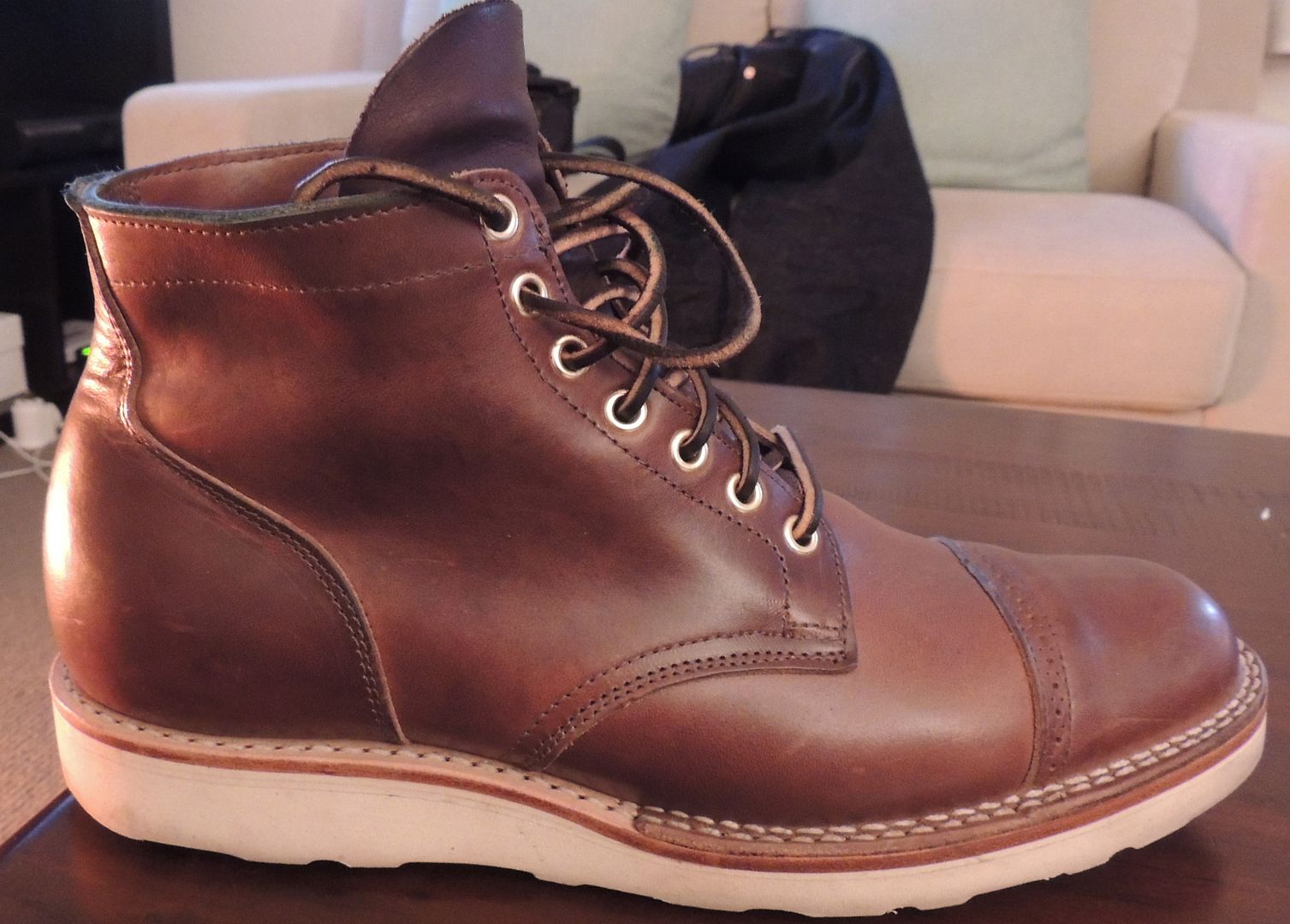 -----------------
Fantastic belt from Tender Co., but I've got too many belts.
Thickest belt I own, great construction as with all Tender.
Size 3 (32-36 waist).
Retails at $245 USD, selling for $100.
Free shipping in Australia, international PM me and we'll work something acceptable out.
From the website:
Made in Devon and Sumerset, England.
-Super heavy-weight greased bridle leather that is oak bark-tanned for 18 months.
-Custom solid brass hand cast 'S' slide buckle.
Hand cut and stitched with heavy-weight waxed thread.
Belt will curve and shape with wear and the untreated edges will age and develop over time.
This belt is super heavy-weight and is built to last and improve for years.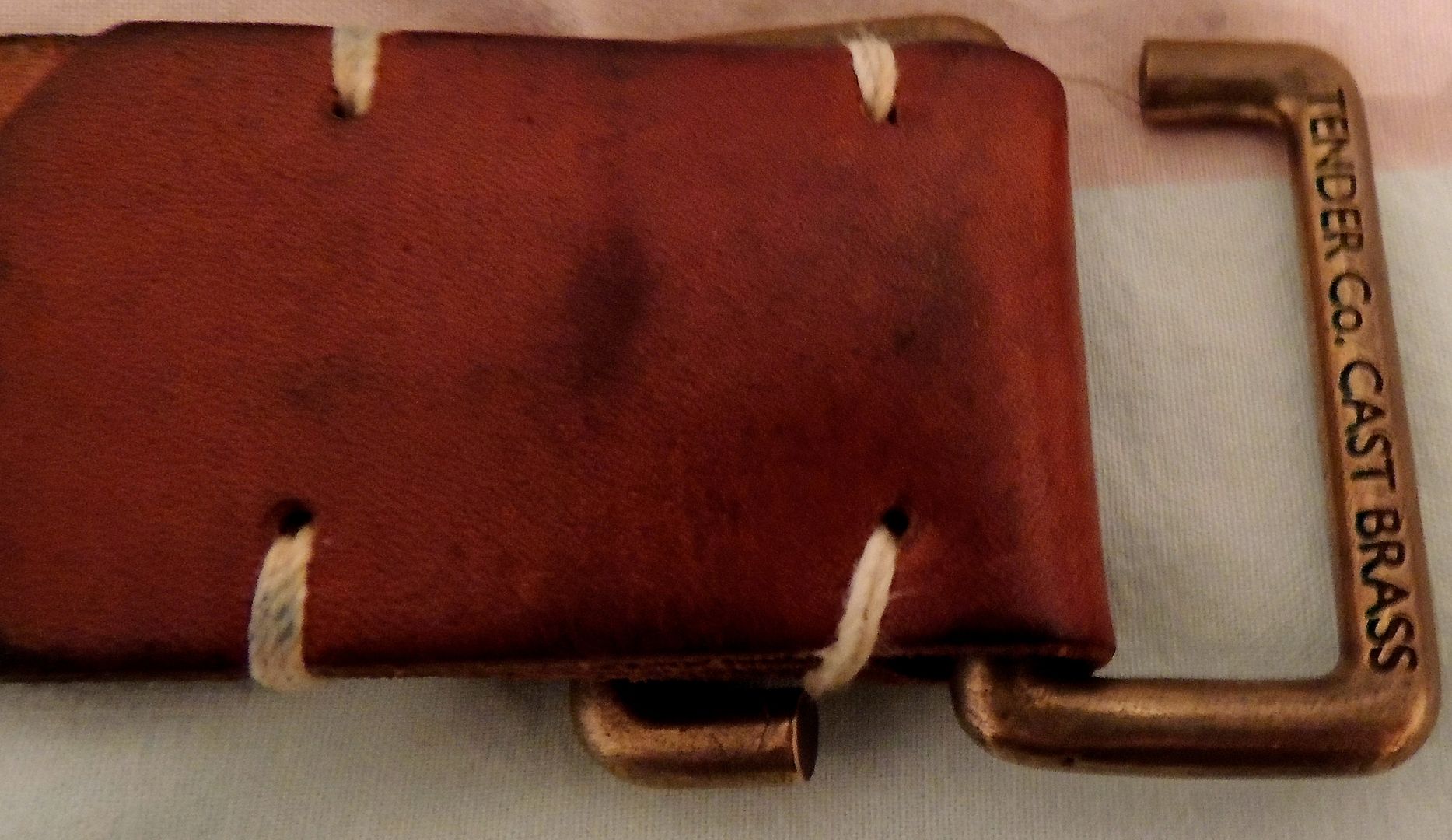 ------------
Journal Standard Old Bead Shirt.
I love this shirt but it's too big for me.
This cost USD $320 new, will take $200.
Measurements (inches):
Pit-To-Pit: 22.5
Back: 31.5
Shoulder: 18.5
Arm: 22.5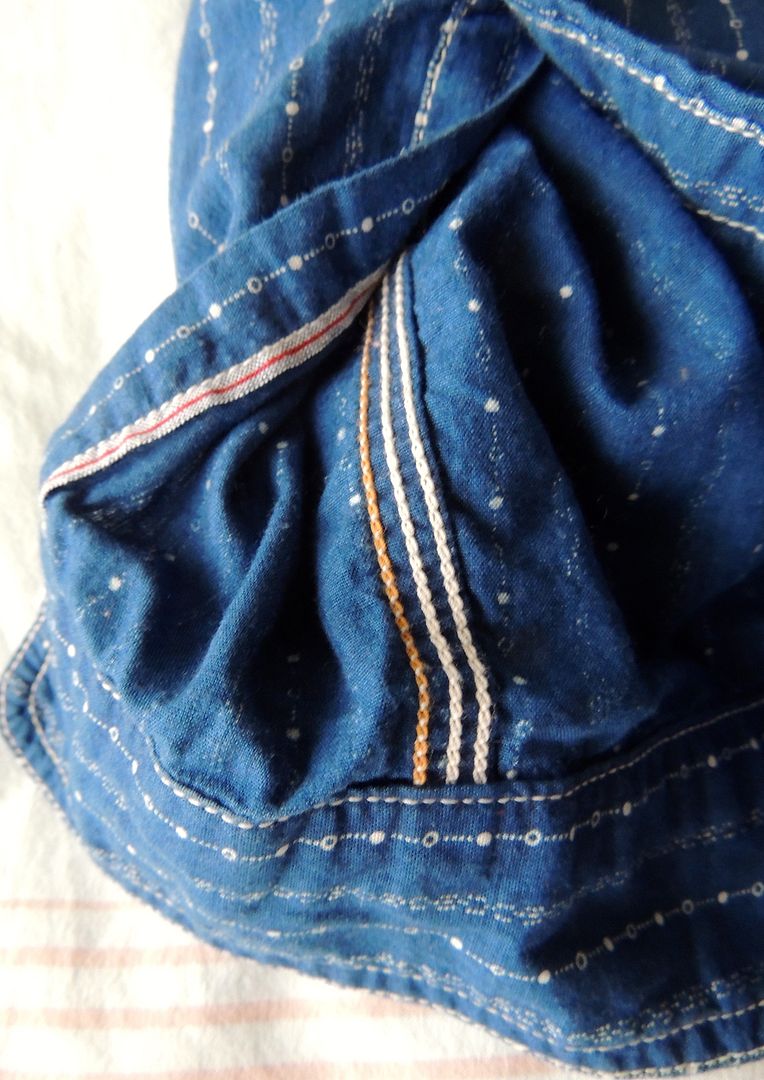 From the website -
As part of their SS13 collection, Japan's Journal Standard have created the Old Print 2 Pocket Work Shirt, adding to their admirable collection of workwear inspired shirting. Made from a 100% Cotton selvedge fabric, woven exclusively for Journal Standard, it features an all over vertical striped print pattern, selvedge detail trimmed gusset and embossed nut buttons.
100% Selvedge Cotton
Two Button Closed Chest Pockets
Triple Stitch Construction
Spread Collar
Box Pleat Yoke
Curved Hem
Trimmed Gusset with Selvedge Detail
Detail Embossed Nut Buttons
------------
This is a Post Overalls Olive Cruzer 5-W Jacket in size L.
Amazing fabric, construction and detailing, but too big for me.
Selling for *substantially* less than I paid, 220 USD. Shipping is $5 within Australia, for international PM me and we'll figure it out.
Measurements (inches):
P2P - 23.5
Back - 28.5
Shoulders - 19
Arm - 21
Taken from website:
Inspired by the American machine age and the anonymous yet iconic apparel worn by the workers that powered the US through through the 1920's and 1930's, Takeshi Ohfuchi, the designer behind Post Overalls creates clothing that is authentic in both detail and construction, with every piece made in the USA. The Cruzer 5-W Jacket is his take on the traditional over shirt, constructed from a hard-wearing 100% Cotton twill, it features four utilitarian pockets, contrast stitching and it left unlined.
100% Cotton
Four Button Closed Pockets
Button Closure
Unlined
Trademark Contrast Stitching
One Internal Patch Pocket
Made in USA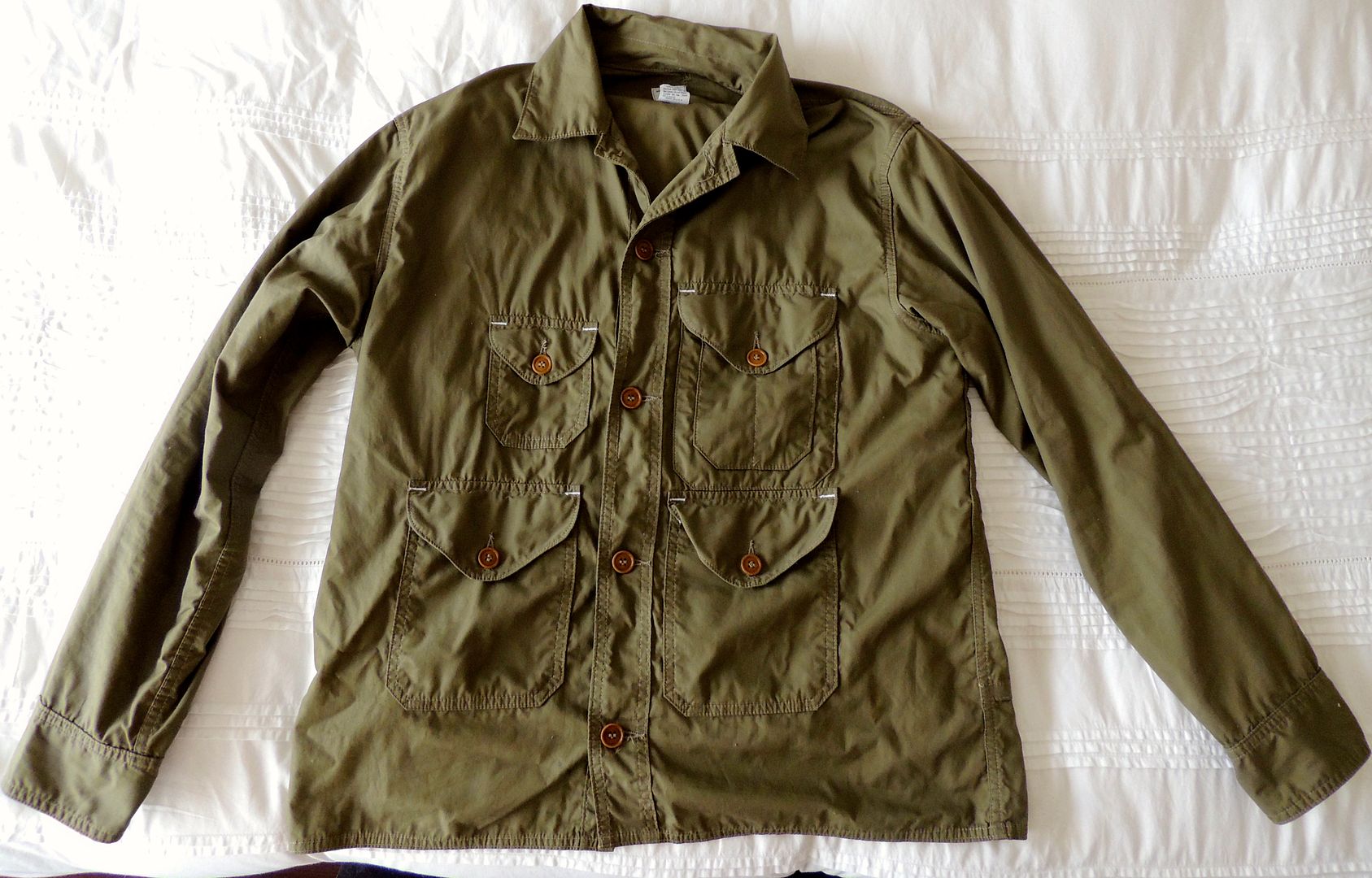 ------------
Eternal 811s, size 33.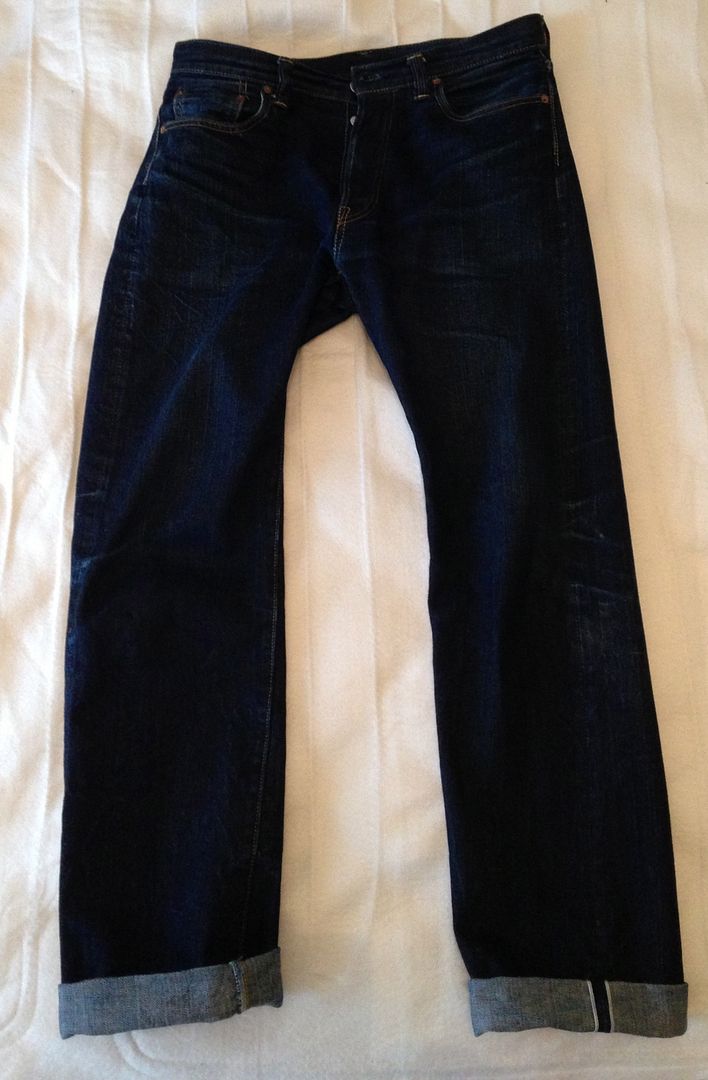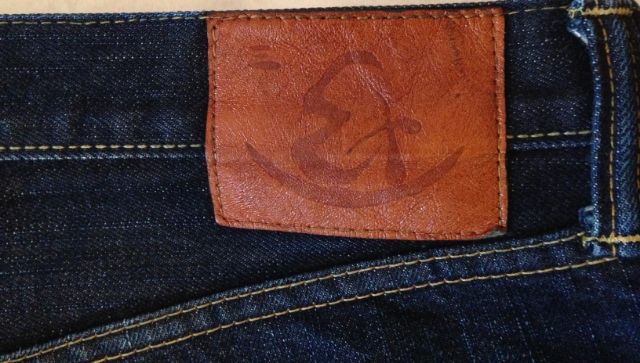 Hemmed to a 32.5" inseam (still chain stitched).
Waist: 33
Front rise: 10.7
Back Rise: 15
Thigh: 12.2
Knee: 8.8
Hem: 8.2
Very lightly worn, some light fading as seen in the photos.
-------
The Strike Gold 1105 model, size 34.
Hemmed to 32.5" inseam and tapered by my tailor to a 7.5" hem, selvage intact (alteration performed on the inside of the leg), not chainstitched.
Waist: 35
Thigh: 12
Knee: 9
Leg Opening: 7.5
Loads of life left in them, worn very few times before deciding they're too skinny for my upper body.
Looking for a quick sale, so I'll take USD $120 for the Strike Golds, and $85 for the Eternal 811s.
If you buy them together, you can have both for $190.
Shipping is $10 within Australia, international buyers PM me and we'll sort something out both parties are happy with.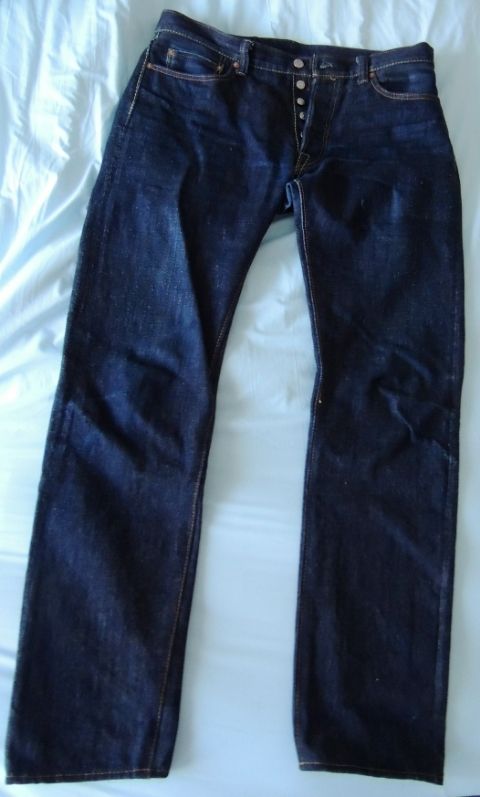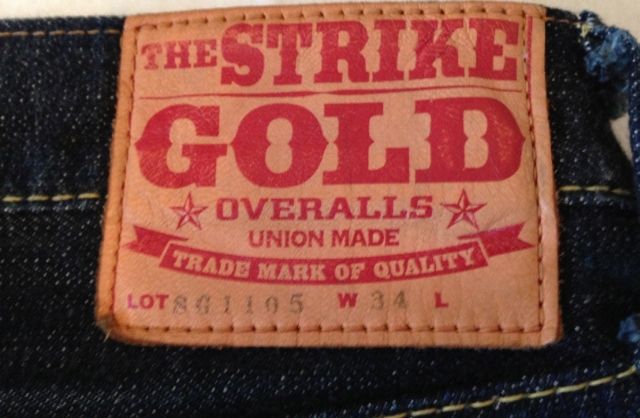 ------------
This is a pair of Rogue Territory DBL Indigo Work Trousers.
Handmade, very limited production, not available anymore.
Since I've lost some weight they're a bit too big for me now. Still loads of life in them. $100 USD, free shipping in Australia, international PM me and we'll sort something out.
Waist: 35"
Front Rise: 11"
Back Rise: 15"
Upper Thigh: 12.25
Knee: 9.25"
Leg opening: 8.5"
Inseam: 33"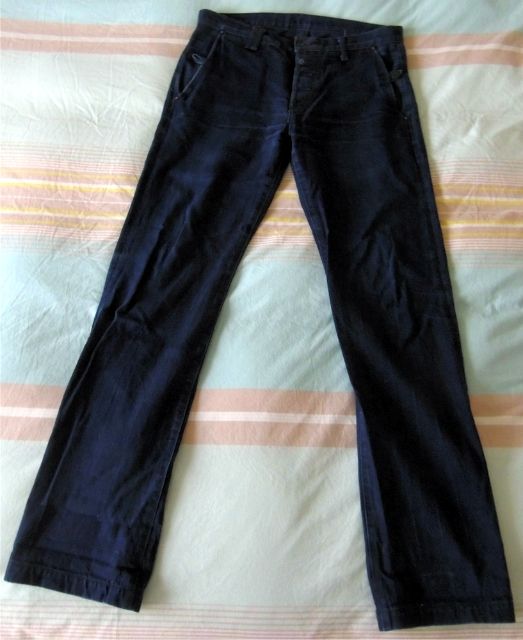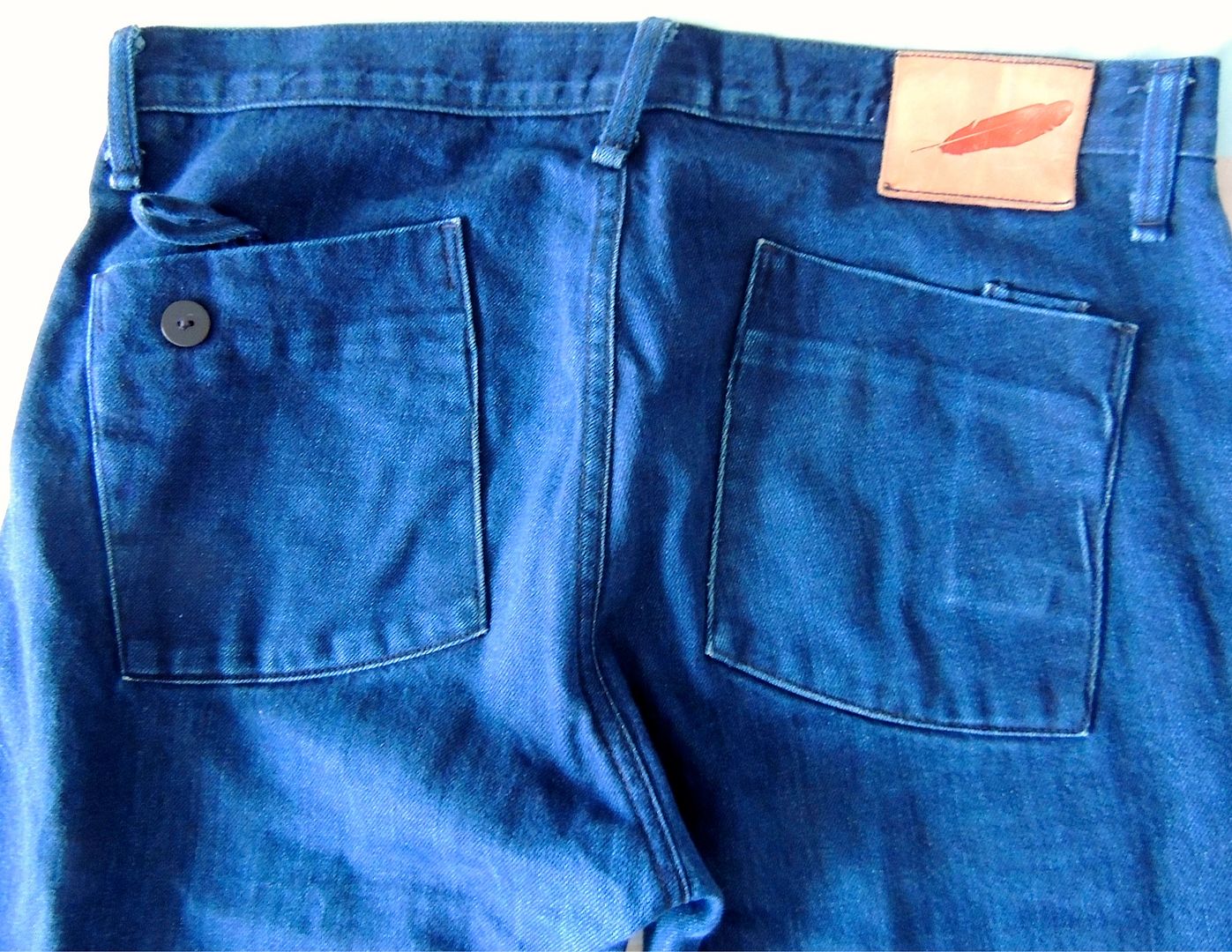 -----------------
This is a pair of Nom De Guerre trousers in black and grey pinpoint wool, cupra lining.
Elegant, great fabric, excellent construction (made in Japan), versatile.
Originally retailed for $400, I'm looking for $100 as a quick sale.
Filled with intricate touches like the hidden coin pocket.
Measurements (inches):
Waist: 34
Thigh: 12
Hem: 7.5
Inseam: 34
Shipping within Australia is $10, anywhere else PM me and we'll sort something amenable out.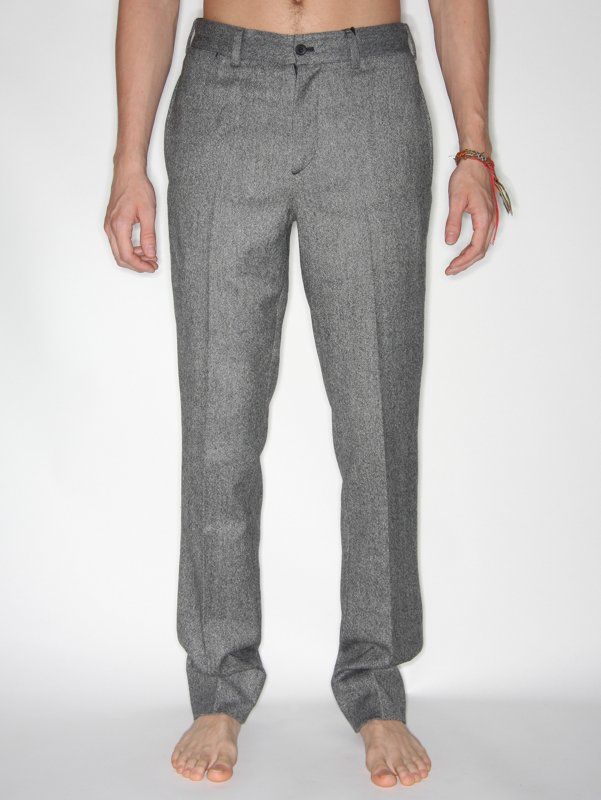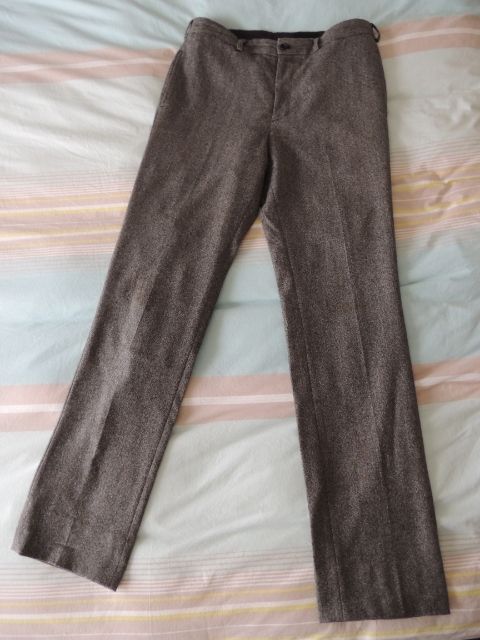 < id="adlesse_unifier_magic_element_id" style="display:none;"> < id="adlesse_unifier_magic_element_id" style="display:none;">


Edited by Aries - 23 Aug 2013 at 7:11pm